Thanks to the phenolic compounds (anthocyanins, flavanones, and hydroxycinnamic acids) and ascorbic acid with antioxidant activity,
RED ORANGE COMPLEX® :
FIGHTS THE SKIN AGING SIGNS IN MEN AND WOMEN. It is able to improve skin moisturization, elasticity, distensibility and radiance; it reduces the wrinkle depth.
INHIBITS SKIN DAMAGE AND HELPS TO MAINTAIN HEALTHY SKIN IN MEN AND WOMEN. It is able to protect skin against UV-induced damage (cutaneous erythema) and photoaging, control the hyperpigmentation (melanin production), improve the homogeneous tunning and skin brightening.
DECREASES OXIDATIVE STRESS in subjects with compromised antioxidant defences such as athletes, scuba divers, diabetics, smokers and subject exposed to air-pollution. It is able to decrease oxidative stress counteracting ROS (Reactive Oxygen Species) and other reactive free radicals, to restore glutathione levels and thus protect against short and long-term health consequences in different population targets with compromised antioxidant defences.
Environmental insults such as UV irradiation or pollutants exposure contribute to the generation of ROS, which lead to skin aging and inflammation. RED ORANGE COMPLEX® is a clinically (7 clinical studies published) proven antioxidant that helps to reduce the oxidative stress overall the body and in the skin.
RED ORANGE COMPLEX® is backed by several in vitro studies, five clinical trials to highlight the strong anti-oxidant power and other two clinical investigations demonstrating its benefits as a powerful skin-enhancing ingredient. The first clinical study showed that a daily dosage of 100mg of RED ORANGE COMPLEX® for 15 days reduces erythema and hyperpigmentation induced by UV-B exposure, resulting in an improvement of skin appearance and skin tanning homogeneity.
The second clinical investigation, a double blind placebo controlled study on 100 volunteers, confirmed the photoprotective activity of the RED ORANGE COMPLEX® and showed for the first time in humans its skin anti-aging properties.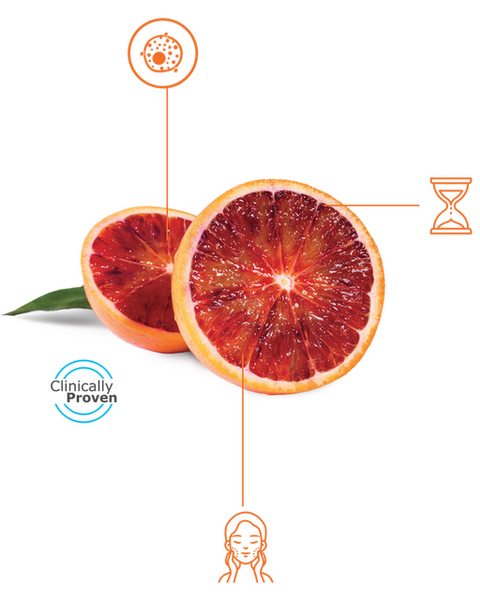 Lifecycle analysis of RED ORANGE COMPLEX® raw material support the best practice to reduce the environmental impact.
RED ORANGE COMPLEX® is Kosher, Halal and Vegan certified and it is a gluten, GMO and BSE/TSE free product. It is also TRU-ID (DNA barcoding) certified and we have a self-affirmed GRAS to guarantee the safety of the product.
RED ORANGE COMPLEX® is manufactured with the Moro, Tarocco and Sanguinello orange juice. These are three orange varieties, which grow in a specific and unique area around the Etna Volcano in Sicily (Italy).
Volcanic soils surrounding Etna, main area of cultivation of BIONAP's suppliers, have a unique mineral and chemical profile that determine nonpareil characteristics in the plants grown there. Our supply chain, is short, traceable and ethically managed.
A FARMER'S NETWORK has been created to assure a wide production base and to reduce crop risks. The actual network, ever growing, consist of certified farmlands no more distant than 2 hours of transport route from the BIONAP's processing facility.
NATURAL SUPPORT TO MAINTAIN HEALTHY SKIN
WITH A BEAUTY FROM WITHIN APPROACH